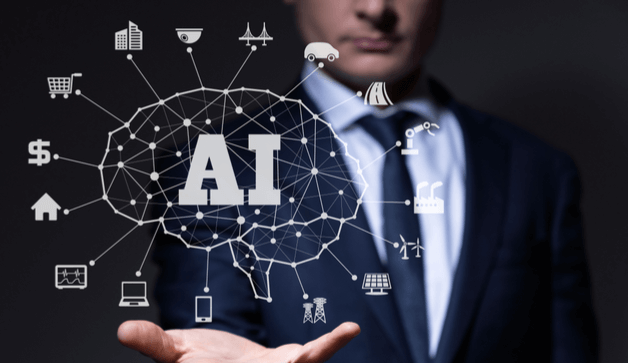 Artificial intelligence, what was once considered scary, is now a huge part of daily life. For some time, businesses have been using automated voice programs to answer phone calls and direct callers to the correct department. For years, smartphones have been equipped with predictive text, another basic form of AI, but it has not stopped there. Thanks to its amazing capabilities, AI is transforming the business industry and will continue for years to come. It has become an excellent source of help for business managers, marketers, and others.
We currently see businesses using different types of AI for customer support through automated voice programs and chatbots on websites. These have become enormously helpful as they can lead customers to the correct department. This is very helpful for both the customers who no longer must speak to ten different people and for the business for maximum efficiency. If efficiency is what you are looking for, you should read this post with some of the Benefits of unified communications.
At this time, it is believed that the next step with AI in customer support is that it will be able to solve problems so that human interaction will be minimized. Many chatbots are already helping to answer questions and solve some problems. The current aim is to have automated voice systems to reach the same level.
Another area in which business is looking to implement AI is by training it to locate more appropriate staff members. AI has the capability to search through, organize, and compare a lot of data at once. If it is taught the correct parameters, it will be able to sort through applications, social media profiles, and other business profiles to find candidates that match the criteria businesses are searching for. This will likely result in a much lower turnover rate and will lighten the manager's workload allowing them to focus on other important tasks.
We currently see AI working in marketing and SEO, but that use is likely to increase and adapt. AI will continue to target the right audiences for businesses to streamline their marketing to the proper people through the proper channels. It is likely that AI will be incorporated to predict trends that will give marketing directors and agents a headstart with their marketing campaigns.-
Business managers are considered using artificial intelligence for a couple of other business tasks, as well. One of those is as a financial analyst, and the other is as personal assistants. Google Analytics is already capable of reading monetary results and translating that information for decision making. Using those capabilities to track finances for businesses and give recommendations is not much of a stretch. As far as personal assistants go, there are already some chatbots that are capable of scheduling tasks for you and sending out email invites. With training, artificial intelligence can be used for most, if not all, of a personal assistant's tasks that do not require a human being.
Managing a business, at its basic form, is making sure that each individual piece of the company runs as smoothly as possible separately, so they operate efficiently as a whole. While it is not currently impossible to carry out that job, it can be tough. Most managers have so many mundane or administrative tasks and processes on their plates that they have little to no time to pay attention to other parts of the business. Business managers and technologists are looking for ways to change this using new aids like this attendance tracking software.
Artificial intelligence has the capabilities to streamline those processes and complete them more quickly and effectively. If managers can step away from the necessary tasks, such as sifting through resumes and fighting the right candidates, they can spend more time focusing on the human side of the business.
Start an Affiliate Program for Your Business
More and more people are showing interest in affiliate marketing.
And it's good news for all businesses with established affiliate programs. For them, it means more people will join them as affiliates, promote their products or services, and increase business revenue.
For you ⁠— someone who's reading this "how to start an affiliate program for business" guide and yet to build an affiliate program ⁠— it's great news as well. There's an infinite supply of affiliates, and if your product/service is worth promoting and you build a worthwhile affiliate program, people would love to promote your brand.
Affiliate marketers are creating careers out of starting an affiliate marketing business and generating affiliate income outside of a regular day job. Many build an affiliate websites themselves.  So, how can you take advantage of content creators looking to promote your products to their audience?
By creating an affiliate mar program and adding affiliate marketing partners, you can generate revenue at a guaranteed positive return on investment.
But how do you build a profitable affiliate program for your business without being an affiliate marketer? Well, that's what you'll learn in this article.
We'll take you through the fundamentals of affiliate marketing and show you the steps to build a successful affiliate program. To be successful, you don't need to have super involved in affiliate marketing–You just have to set up the basics.
Let's start!
What Is Affiliate Marketing?
The term "affiliate marketing" can mean two different things depending on who's asking.
For businesses, affiliate marketing means giving a reward (typically a fixed or % cash commission) for a sale/lead an affiliate brings to the business.
Then there's the affiliate side. Affiliates are people who promote businesses' products and services for a commission. These people can be business customers or professional influencers (like Instagram influencers or niche website owners).
For affiliates, affiliate marketing for small businesses means promoting a business's offerings to earn a commission.
Wherever we mention "affiliate marketing" in this article or on the Social Snowball Blog in general, we mean it from the business's perspective. Understand what is the biggest problems in affiiate marketing.
How Does an Affiliate Program Work?
You probably already understood the definitions of how an affiliate program works. Let us still lay it out for you step-by-step:
Step 1: You build an affiliate program
Step 2: People join it and become affiliates
Step 3: Affiliates get their affiliate links/coupon codes
Step 4: They promote your product(s) (or service(s)) and ask their audience to purchase through affiliate links
Step 5: A potential customer clicks on their affiliate link and purchases from you
Step 6: Your affiliate app/software/platform tracks the click & purchase and confirms the customer came through the affiliate
Step 7: You pay the affiliate a commission for the customer they brought
Then, repeat: The affiliate brings another customer > You pay the commission again.
A Quick View At The Benefits Of an Affiliate Marketing Program
Check out our benefits of affiliate marketing article for a detailed look at the affiliate program benefits. Here's a summary:
1. Low-risk, high reward
Affiliate marketing is a performance-based marketing strategy. It essentially means you only pay the affiliates for the customer (or client) they bring to you — that, too, after the customer pays you and is past their refund/trial period. Moreover, setting up an affiliate program costs as little as $0/month.
Long story short, you won't need to invest large sums of money upfront to create an affiliate program or embark on starting an affiliate website.
2. Increased brand awareness
From an affiliate's perspective, the first step to promoting your brand and making a commission is to make their audience aware of you. Only after they share the features/benefits/use cases of your product or service they'll be able to get people to click on the affiliate link and make a commission.
In other words, at the very least, they'll increase your brand awareness and spread positive word of mouth.
3. Relevant traffic
Because your affiliates will be people/companies with a relevant audience that's more likely to buy from you, you'll get high-converting traffic to your site.
For example, people visit NerdWallet to "make all the right money moves." So it makes sense for them to sign up for credit card affiliate programs and for credit card companies to accept their application.
4. More Revenue
No surprises here, the relevant people that just heard of your brand in a positive light (from an affiliate) will convert well and add to your revenue.
How much? Even 20-30% of total revenue through the affiliate channel isn't unheard of. In fact, 40% of U.S. merchants cite affiliate programs as their top customer acquisition channel. And as we mentioned in our referral program examples post, some of the biggest businesses' growth snowballed because of referral/affiliate marketing.